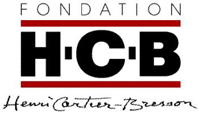 Presented by the Fondation Henri Cartier-Bresson, the HCB Award is a prize to stimulate a photographer's creativity by offering the opportunity to carry out a project that would otherwise be difficult to achieve.
It is intended for photographers who have already completed a significant body of work, a talented photographer in the emerging phase of his or her career with an approach close to that of documentary. Candidates should be nominated by an institution (museum, gallery, independent curator, publisher…).
The prize is indivisible: 35, 000 Euros that is awarded every other year.
Eighteen months after the reception of the prize, the winner will have an exhibition of his work at the Fondation HCB in Paris and a catalogue will be published.
The HCB Award is made possible with the partnership of the Fondation d'entreprise Hermès.
Calendar
– February 2013: applications available online
– March 1st – April 30th, 2013, return of applications to the Foundation.
– 10th and 11th June 2013, selection of the prize-winner.
– June 25th 2013: prize-giving ceremony
– July 2013, return of applications to the candidates
more info : http://www.henricartierbresson.org/prix/ressources/HCB_AWARD_2013_EN.pdf
REDD+for Food Photo Contest (Deadline: 25 April 2013) fao.org/forestry/food-…

— Seribu Kata (@1000kata) April 9, 2013
RT @roni_az: Burn magazine calls for entries in Emerging Photographer Fund – BJP #Photography #photojournalism… fb.me/A2afymhx

— Seribu Kata (@1000kata) April 8, 2013